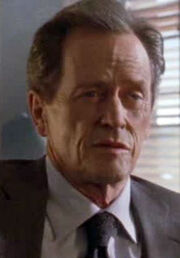 "I thought you'd welcome my help," I said.
"Like a case of clap," Healy said.
"That's cold," I said.
"It is," Healy said.
"You know the captain," Freckles said.
"I do," I said. "We're tight."

Healy (no first name revealed) is a Captain in the Massachusetts State Police. His first appearance is in God Save the Child. He becomes one of Spenser's main police contacts, and is also friends with Jesse Stone.
Spenser describes Healy as medium height (5'10"), slim and athletic. He is probably older than Spenser - in his first appearance, Healy mentions he has five children, four of whom are college-aged or older.
Healy belongs to the group of characters who subscribe to "the Code," meaning primarily that he does what he says he will do. More than once he serves as a reference for Spenser when law enforcement or clients are looking for information about Spenser's trustworthiness. He's not quite in the 'inner circle' - Healy does not, for example, take part in activities such as periodically protecting Susan - but Spenser trusts him.
Jesse Stone is actually closer to Healy than Spenser. Stone and Healy were both baseball players, and Stone's job as police chief brings him into more regular contact with Healy.