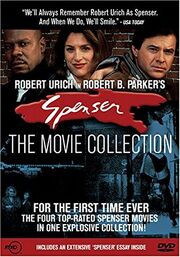 Spenser: The Movie Collection contains the four movies shot in cooperation with the Lifetime network as a follow-up to the series in a nice boxed set. I took some notes while watching them and added a few comments, most especially including the "Welcome to Canada" moments.
BTW The version of Ceremony included is the alternate one shot for foreign markets and includes some nudity.
Amazon.com- Spenser For Hire - the Movie Collection- DVD- Robert Urich,Avery Brooks,Cynthia Dale,Ross Petty,Hayley Tyson,Wend..
They are also available individually for rent at Netflix. Go to www.netflix.com and search for Spenser.