Television Theme Song
Edit
The Spenser: For Hire theme song was recorded for the television show by the legendary jazz artist Grover Washington Jr. The opening credits with the song can be found on YouTube (below).
Official Bullets and Beer Theme Song
Edit
Let me once again thank Thom Brannan, contributor to this site and member of the rock band Joker Saints. While I was clinging to the dinky little free web space my ISP allowed he let me store many megabytes on his commercial site.
When Thom saw that I had taken the Fibs song as an unofficial theme he took the idea as a challenge and decided to record a song specifically for this site. Ladies and gentlemen I present to you, the Official Bullets and Beer theme song, "Bullets." You can listen to it here on SoundClick.
---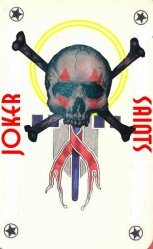 BULLETS
By The Joker Saints
yeah
I've been up and
I've been down and
it makes no difference to me
I'm the pilot
I'm the captain
yeah, of my destiny
this institution of
my resolution
leaves no room for fear
can't keep me locked up
because I'm stocked up
yeah, on bullets and beer
I want my bullets and beer
oh, bullets and beer
I've got my friends
and I've got the sand
to tell you just what I think
and it don't bother me
I just let it be
I'm not needing a shrink
so please don't lecture on
you've got my picture wrong
but there's nothing to fear
I know it's sappy
but to keep me happy
keep me in bullets and beer
I want my bullets and beer
oh, bullets and beer