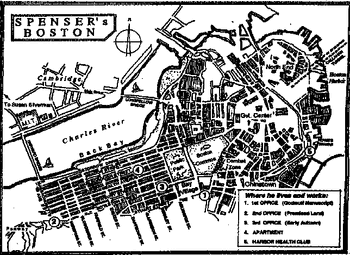 It's one thing to read where Spenser's apartment and offices were located but not all of us are familiar with Boston, and a picture is worth something on the order of 1.0K words. The following map and description of how it was developed are from the book The SPENSER Companion by Dennis Tallett and are used with the kind permission of the author, who has been contributing to this site since long before I took over its management.
--- Boston's Back Bay is SPENSER territory. He moves between the fine brick mansions, classical 19th century churches, modern glass towers and clusters of fine stores. Living, working, eating and jogging, everything is within easy distance which includes the Police Department.
It is an area roughly rectangular with the Charles River on the north side separating it from Cambridge and M.I.T. while the Public Garden and Boston Common separates it from the North End and the waterfront.
The Godwulf Manuscript tells us that his apartment is two blocks from the Public Garden on Marlborough Street, a residential street which is still reasonably quiet and shady.
His office, in the area of the Transportation Building, nudges Chinatown and the Combat Zone which is ripe for redevelopment. Stuart Street changes its name opposite the Transportation Building to Eliot Street before it meets Tremont.
He moves his office in Promised Land to the opposite end of the Back Bay at Boylston and Massachusetts. Here he is close to fine shopping and the Harvard Bridge which leads him to Linnaean Street in Cambridge, and Susan Silverman's front door which is mentioned in Crimson Joy.
SPENSER moves his office back to the Public Garden area at Boylston and Berkley in Early Autumn. Here he is close to the Hancock Tower, fashionable stores and the Boston P.D.
The Harbor Health Club, Henry Cimoli's place, is located on Atlantic Avenue. From Cimoli's window in Paper Doll, SPENSER can see the ferry leaving Rowe's Wharf, an area that has recently had a considerable face lift.
(If you cannot visit the city, the INSIGHT GUIDES - BOSTON, published by Houghton-Mifflin, provides both a good description and fine photographs of many Boston neighborhoods. The Back Bay area is covered, photographically, with a bird's eye view. Although his offices and apartment are just out of the picture, one can feel the ambience in which SPENSER works, lives, plays and jogs.)
---
The above excerpt is from The SPENSER Companion - The Second Edition, Copyright 2001 by Dennis Tallett. Published by Companion Books, California - All Rights ReservedReprinted on this site with permission of the author. Print it elsewhere and we will send Hawk to point out the error of your ways. No Bostonians were hurt or killed in the production of this web page, although some of them probably deserved it.
---
This entry posted by Bob Ames in 2002.
Ad blocker interference detected!
Wikia is a free-to-use site that makes money from advertising. We have a modified experience for viewers using ad blockers

Wikia is not accessible if you've made further modifications. Remove the custom ad blocker rule(s) and the page will load as expected.